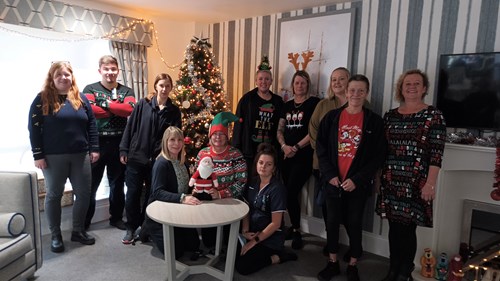 Pictured: Back row from left: Joy, Ben, Sian, Nyssa, Jo, Jess, Lynn and Lynne.
Front row from left: Gail, Sarah and Grae
The team of "marvellous" Care Workers were praised in the first Care Quality Commission (CQC) inspection to a Housing 21 Extra Care scheme in North Yorkshire. 
In November this year, inspectors from the CQC visited Filey Fields and recorded an overall grading of 'Good' – one rating below 'Outstanding'.
The final inspection report recognised the provision of care provided, stating that: "People received care and support that was centred around their individual needs. Everybody spoke with enthusiasm about the way the service was managed which resulted in person centred care by staff."
The report also included statements from residents who commended the team working at the Housing 21 scheme: "Staff supported people in a way that enabled them to stay living as independently as possible in their own apartments."
Filey Fields is just one of over 22,200 Housing 21 schemes which offers independent living, with access to on-site care for people over the age of 55. Offering one and two bed apartments available for rent and shared ownership, the scheme is located in the borough of Scarborough.
Housing and Care Manager at Filey Fields, Chantelle Downes, said: "The team at Filey Fields are wonderful, we all enjoy working together and do what it takes to ensure our residents are happy and well looked after.
"Our recent CQC rating reflects this, we take pride in our work, this is why our employees love to work here, and ultimately why our residents choose to live here."
Filey Fields is located in the charming coastal town famous for its five-mile sandy beach and fishing heritage.
The scheme offers fully accessible facilities for both residents and visitors, including a restaurant and a hair salon for the community to use. There is also a residents' lounge and guest suite for residents and their guests to enjoy.
To find out more about living at Filey Fields, visit the scheme's page: Housing 21 - Retirement homes in Filey, North Yorkshire