Photos spanning more than 40 years of history at a Retirement Living scheme in Pershore were displayed across the development as residents welcomed a visit from their local MP. 
Harriett Baldwin, MP for West Worcestershire, was greeted by residents from Roland Rutter Court following an invitation by Housing 21, which owns and operates the scheme as part of a portfolio of Retirement Living and Extra Care properties across England. 
Mrs Baldwin was given an opportunity to chat with some of the scheme's 68 residents, who live independently in one of the scheme's 52 studio, one, two and three-bedroom apartments.  
Mrs Baldwin said: "I was delighted to be invited to visit Roland Rutter Court and chat to some of the people who live in this wonderful central location. I'm a huge fan of schemes like this that allow retired people to live independently, but with support from a Court Manager, and it is clear to me that people are extremely happy living there. 
"I was delighted to meet the oldest resident, Harold Wilson, to whom I recently sent a 101st birthday card. Now that Covid-19 restrictions are lifted, it is heartening to see people getting back to a normal way of life and it felt really good to be able to sit in a communal lounge, have a cup of tea and chat to local people to hear their news and views."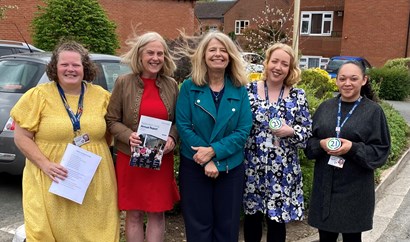 Pictured: MP Harriett Baldwin (centre) with Roland Rutter employees including
Court Manager Linda Holland (far left) 
During the day, Mrs Baldwin was talked through photos which were displayed around the scheme showcasing the history of Roland Rutter Court, which opened the doors to its first residents in 1977 and will celebrate its 45th anniversary next year.  
She later joined residents in the scheme's communal lounge for an organised lunch. 
Linda Holland, Roland Rutter's Court Manager, said: "Harriett was really lovely and we thoroughly enjoyed the opportunity to show her around and talk to her about life here at Roland Rutter Court. The residents talked about what it is like to live here, the history of the court and discussed any issues they needed help with. 
"It was an absolute pleasure to welcome her and we have invited her to come back later in the year once our communal lounge undergoes a refurbishment. She has also been invited to join Harold at his 102nd birthday next year which she happily agreed to."