MP Paul Holmes visit residents at Malmesbury Court
Malmesbury Court residents participated in a question-and-answer session with their local MP and joined him in congratulating an employee for 15 years' service during a recent visit to their scheme.
Paul Holmes, MP for Eastleigh, was greeted by residents at Malmesbury Court following an invitation by Housing 21, which owns and operates the scheme as part of a portfolio of Retirement Living and Extra Care properties across England.
Mr Holmes took the opportunity to have a question-and-answer session with some of the scheme's residents, who live independently in one of its studio, one, two and three-bedroom apartments.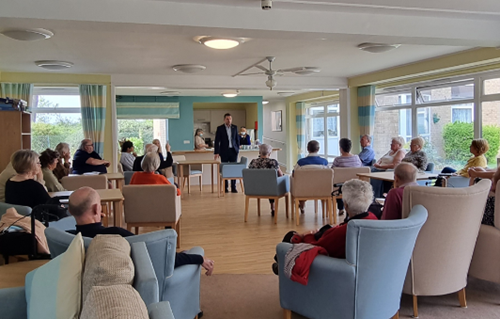 Pictured: Paul Holmes MP, and the residents at Malmesbury Court.

Mr Holmes said: "I was delighted to have visited the scenic supported living accommodation at Malmesbury Court on Victoria Road.
"It was great to join the manager, Richard Mwedzi, and a number of residents to hear from them and to discuss their thoughts and concerns. Residents asked me a few questions on local and national issues, and I was delighted to talk to them about what I have been working to deliver for them in Westminster to improve our towns and villages here in Eastleigh."
During the day, Paul Holmes had a tour around Malmesbury Court by Court Manager Rich Mwedzi and  Regional Operations Manager, Aminda Kaur.
Mr Holmes said: "After my tour and talk I had to confess certain envy of residents of Malmesbury Court, which looks over the beautiful Southampton Water estuary, which flows out into the Solent. It is wonderful to have such brilliant accommodation here in such a great location, and I look forward to my next visit."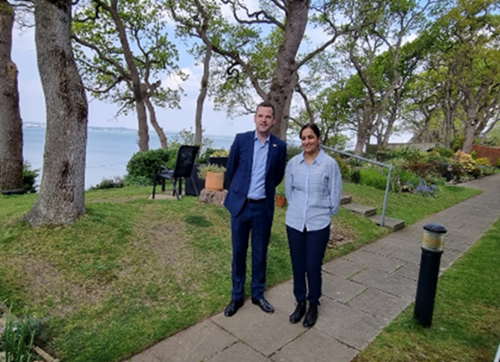 Pictured: Paul Holmes MP with Regional Operations Manager Aminda Kaur
At the end of the day, Mr Holmes presented Nicola Beale the Assistant Court Manager with a bouquet of flowers, box of chocolates and £150 gift voucher to celebrate her 15 years of service at Malmesbury Court.
Richard Mwedzi, Court Manager said: "Mr Holmes' visit was well received, and residents welcomed the opportunity to raise issues with their MP. It was especially nice to use the occasion to celebrate the great service provided by Aminda over the past 15 years."