A time capsule has been placed back in the ground with memories of the Coronavirus pandemic at Newton House, a new Extra Care scheme by Housing 21 in Penrith.
In 2019, when construction work began at the former site of Penrith's maternity home, a time capsule from 1945 was discovered. The same time capsule now contains a recent newspaper article from Cumberland & Westmorland Herald celebrating 160 years of publication, a Housing 21 face mask and a poem about what it has been like to work in the care industry during the pandemic - penned by one of the organisation's Assistant Care Managers. Also included were two mobile phones, a flyer from a Weatheriggs United Football Club and a memory stick with all the drawings from the current scheme.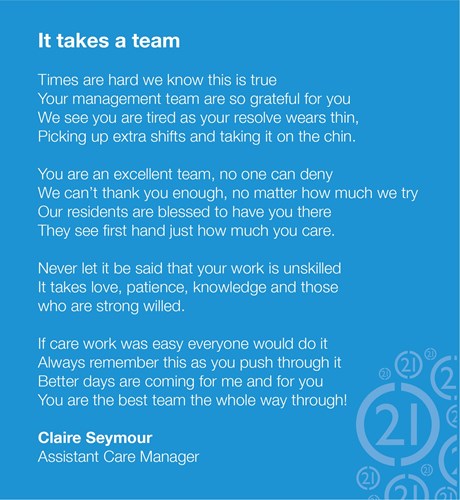 The poem penned by an Assistant Care Manager at Housing 21
When placing back in the ground, the developers also included the original contents from 1945; a hand-written note detailing those involved with the building of the 12-bed maternity home and a letter from Kenneth Fraser, the county medical officer at the time.
The new scheme in Cumbria, which is being developed by Housing 21 in partnership with Cumbria County Council and Eden District Council, will provide 54 one and two bedroom apartments for affordable rent and shared ownership. The development will offer people over the age of 55 a range of services and facilities including a 24 hour on-site care team for those who need it, a café/bistro, hair salon and communal lounge which is also available to the local community.
The Extra Care Living development, located off Newton Road, is set for completion in spring 2021.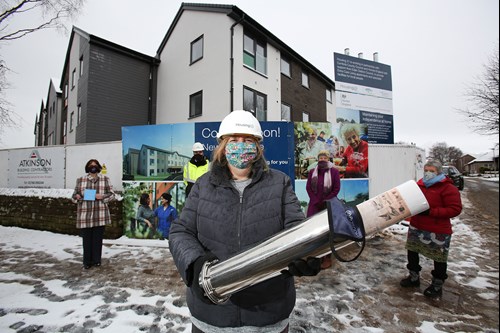 Judith Derbyshire, Eden District Councillor and Dacre Ward Housing & Health Portfolio Holder, said: "This is a fantastic facility and Eden District Council were delighted to be able to contribute from our affordable housing fund, to help make this happen. We look forward to seeing Newton House up and running next year with its first occupants calling Newton Road home. The time capsule is part of a legacy, both from the past and from the parties involved with the new development. Creating history! Well done everyone."
Donna Holmes, Head of Extra Care at Housing 21 said: "We are pleased to be able to capture some of the moments from the past year in the time capsule at Newton House.
"During the pandemic, our Extra Care schemes have proven to be a safe haven compared to other forms of housing and care for older people. Our staff really have risen to the challenge by ensuring residents are safe and well at all times. They are also amazing at lifting spirits for those who are unable to see their loved ones during lockdown and the new tier system. 
"We noticed that residents at other Housing 21 schemes really valued the outdoor communal space and many were able to maintain their social lives by having socially distanced chats with neighbours. In our new schemes, we are providing tablets in each apartment which allow residents to video call each other, which is great for wellbeing in these very unusual times!
"We're looking forward to meeting some of our future residents at Newton House when we officially open the show home next year."
Steve Atkinson, Director of Atkinson Building Contractors said: "When we demolished the old maternity home we unearthed the original time capsule from the mid-1940s, at its construction. We are replacing it and including the information in the previous capsule and also more up to date memorabilia of this time, including plans, local newspapers and mobile phones."
Cumbria County Council Strategic Commissioning Team said: "We are very much looking forward to the new development and bringing Extra Care to the area. Building a community and providing exceptional homes and facilities".
For more information about Housing 21, visit the Newton House page.
Photos were taken when outdoor meetings were permitted.