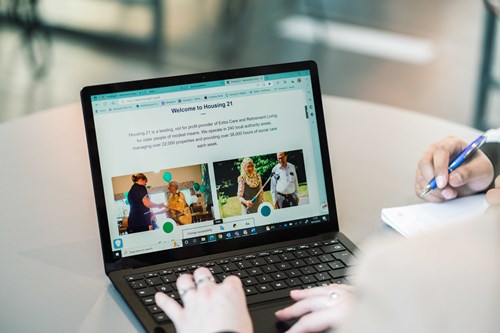 A partnership project supporting older people to become more digitally connected and confident with technology has gone live at our Extra Care Scheme in London.
Penfold Court is working with Westminster City Council to support digital inclusion for the scheme's residents, as part of its campaign to provide better access to digital platforms.
Using funding provided by the council, new inclusive equipment has been installed including a digital signage screen and two smart TVs, with further investment set aside for tablets and games consoles.
John Simmonds, Housing 21's Resident Engagement and Experience Manager, said: "At Housing 21 we are committed to ensuring our residents have access to the same opportunities as everyone else, particularly when it comes to getting online. But we also know that for some people, a lack of confidence or understanding can prove to be a barrier, as can affordability.
"This work will enable us to overcome these hurdles by not only providing the equipment, but also enabling access to experts who can provide residents with the knowledge to feel comfortable using it. By getting online they can then enjoy the financial, social and educational benefits that technology can bring."
The digital screen will be positioned in the foyer to act as a digital noticeboard, promoting news about the scheme and events or services in the local community. The smart TVs will be installed in the scheme's dementia care unit and communal lounge offering access to Microsoft Teams conferencing to enable residents to digitally connect with family, friends and healthcare professionals.
Tracy Jones, Head of Extra Care, said: "After acquiring this scheme in February, along with others from Notting Hill Genesis, this is such a great opportunity for our residents. Innovation and digital connectivity is a huge part of our strategic priorities and is the start of many exciting things to come in and around our Extra Care schemes."
The funding will also be used to fund a pilot of two digital support workers who will advise and educate residents on how to use the new technology and enjoy the associated benefits it can bring, during the first 12 months of installation.
One resident at Penfold Court, Tracy, said: "I'm glad they're bringing in some experts. I've always wanted to understand how these gadgets work, and now I'll have the chance to learn. It is also an opportunity to connect with our neighbours and learn together."
The technology is expected to help residents connect with family and friends further afield using online channels, support residents to safely access social media and have fun with relatives by using the games consoles to play grandchildren.
Access to technology is also expected to help support residents to more easily access health services, supporting residents to engage with online NHS appointments and health information.
Gareth Wall, Bi-borough Director of Integrated Commissioning highlighted that older people are a key group at risk of digital exclusion in a society that is increasingly technology driven. He said: "The partnership work was an exciting example of the department's commitment to digital inclusion and was integral to our Fairer Westminster, and Fairer Communities agendas which are targeted are reducing inequalities at every turn. 
"Digital inclusion is another key means of supporting residents' health and wellbeing, enabling residents to keep in touch with family near and wide, make new social contacts have fun and improve their health."
Housing 21 is exploring opportunities to address digital inclusivity through projects such as communal Wi-Fi, smart TVs and digital training.
Fumni, who works at the scheme as a Care Worker said: "I'm excited to be a part of this initiative. It's a chance for me to upskill and provide better support to our residents. Plus, it's always great to learn something new! Digital training for residents means I'll need to brush up on my tech knowledge too. It's an excellent opportunity for personal growth."
Penfold Court is an Extra Care scheme in Marylebone for people over the age of 55. It offers independent living in private apartments with the reassurance of on-site Care Workers, if and when residents require it.
There are also amenities on site including a communal lounge, restaurant and hair salon, as well as a specialist dementia unit.
For more information on Penfold Court visit the Housing 21 website.