Housing 21 team member and Penrith local Susan Blaylock will return to the exact spot where she was born almost 59 years ago when she takes the role of registered manager at Housing 21's Newton House development when it opens later this summer.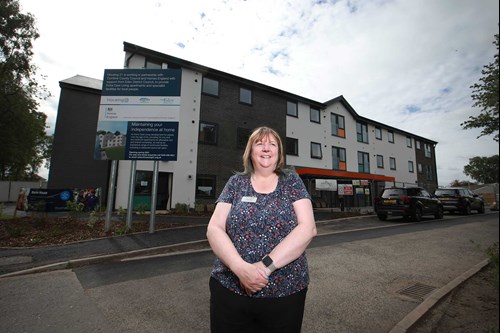 Susan Blaylock outside Housing 21's Newton House
Built on the site of Penrith's former maternity hospital on Newton Road, Newton House is an Extra Care scheme offering 54 one and two-bedroom affordable homes for the Cumbria town's older people.
When Susan's mother – who went on to become a Housing 21 resident herself –gave birth to her fourth and last child at the maternity hospital in September 1962, she would not have thought that almost six decades later, her newborn baby would come back to work at the place where her life began.
"Most of the friends I grew up with would have been born at the maternity hospital and they will still feel ties to the place. Penrith is always home to people who are from here, even when they move away. It's just that type of town," she says.
"One of my earliest memories is going to see my nephew when he was born at the maternity hospital when I was just four years old," recalls Susan, who is also Housing & Care Manager at Lonsdale Court in Pategill, Penrith. "I wasn't allowed into the ward, so I remember looking through the window at him."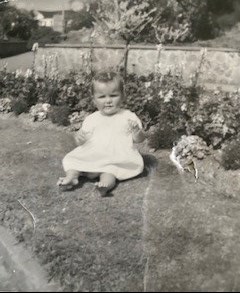 Susan Blaylock as a baby
Things may yet come completely full circle for Susan, who quite fancies moving into Newton House herself. "The flats are beautiful. My husband and I have already said we'd love to live there."
Designed to promote independent living for people over the age of 55, the apartments at Newton House are available to rent or to purchase through shared ownership, with on-site care available. A restaurant, hair salon, residents' lounge, activity room and communal gardens are also being delivered for residents, visitors and members of the local community.
Newton House is being delivered by Housing 21, a leading not for profit provider of Retirement Living and Extra Care for people of modest means, in partnership with Cumbria County Council and Eden District Council.
For more information about Newton House, call Housing 21's New Homes Team on 0345 608 4021 or email newhome@housing21.org.uk
To keep staff and visitors safe, thorough cleaning will be carried out after each viewing. Social distancing will be observed, and protective gloves and face coverings will be available for visitors to use if they wish.