A Retirement Living scheme in Alnwick, went all out to mark its 40th anniversary by inviting members of the local community to join residents in a day of celebrations.
Percy Court, which is managed by Housing 21, invited representatives from organisations including Alnwick Medical Group, Linda Wood-Mitchel from Alnwick Community Trust and John Cooke from St Michael's church in Alnwick, to participate in the fun alongside residents' family and friends.
The scheme also welcomed special guests, Alnwick Mayor, Councillor Geoff Watson and Councillor Gordon Castle who are also members of the Alnwick Branch of the Royal British Legion who spoke to residents about their role in the community as well as Housing 21's roots with the Royal British Legion.
Local Housing Manager, Claire Nicol said: "'We really appreciate everyone who took the time to celebrate our 40th Anniversary and In-bloom competition with us.
"We are happy to be able to share the positive aspects of being part of a community here at Percy Court."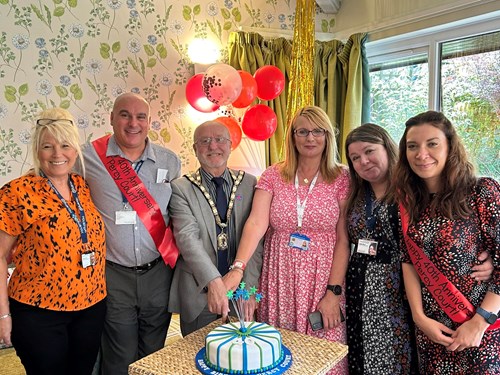 Pictured from left to right: Gill Latif, Local Housing Manager, Paul Harris, Local Housing Manager, Cllr Geoff Watson and Alnwick Mayor, Linda Harvey, Alnwick Medical Group, Claire Nicol, Local Housing Manager of Percy Court, Suzanne Anderson, local Housing Manager.
To mark the special event, guests enjoyed a buffet lunch followed by a Housing 21 themed cake. Activities included a raffle and tombola which raised £162 for charity, the day ended with an eighties themed quiz in celebration of the scheme opening in 1983.
To coincide with the day, Regional Operations Manager, Zoey Stanton and Chair of Alnwick Flower Club and part of the National Association of flower arrangement societies, Kathleen Turner, visited the scheme to judge the resident's entry for Housing 21's internal gardening competition, In-Bloom, where the winners will be announced next month.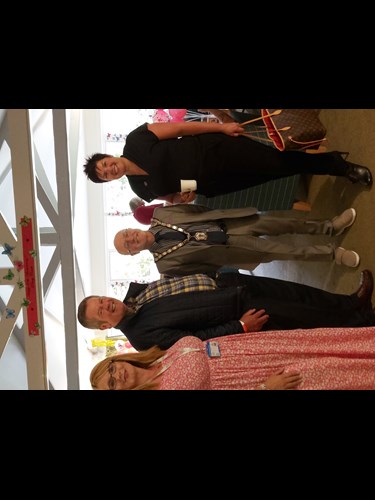 Pictured left to right: Linda Harvey, Alnwick medical group, Cllr Gordon Castle, Cllr Geoff Watson and Mayor of Alnwick, Zoey Stanton, Regional Operations Manager
Housing 21's origins lie within the Royal British Legion. In 1964, Housing 21 was formed to house older and disabled ex-serviceman and widows.
Percy Court is a friendly and popular development in Northumberland, and is one of over 23,300 properties Housing 21 owns and operates as part of a portfolio of Retirement Living and Extra Care properties across England.