Residents at Carew Court in Cramlington are celebrating following a £1m refurbishment project to modernise the scheme, transforming it into a welcoming and homely space. 
The Retirement Living scheme, home to 37 flats, recently underwent a makeover, which saw each flat get a new bathroom and kitchen, as well as a new heating system. The guest room and communal lounge were also renovated. 
To celebrate the completion of the refurbishment, more than 30 residents, employees and members of the local community came together to enjoy a buffet with entertainment.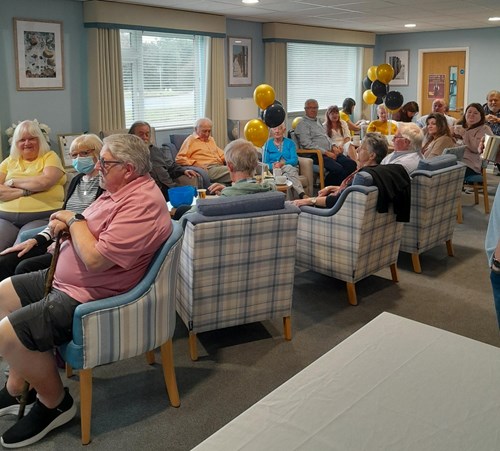 Pictured: Residents at Carew Court at the celebration
Sarah Purvis, Operations Manager said: "Residents are delighted with the changes that have been made and are making the most of the communal spaces with weekly coffee mornings, raffles and entertainment events. It's great to see it being used to benefit the residents and build on the fantastic community spirit at Carew Court. 
"The celebration was a great opportunity for residents to get together for a chat with neighbours and new friends in their newly decorated communal lounge. A big thank you to the contractors involved in the refurbishment, who not only did a fantastic job, but also donated £250 to cover the cost of the party." 
Dave, a resident at the Carew Court, said: "I love my flat; the work that's been done is excellent and the contractors were really good. The lounge looks fantastic, and I am enjoying spending more time in there with my friends and neighbours." 
Carew Court is one of nearly 600 schemes that are owned and managed by Housing 21, a leading not for profit provider of Extra Care and Retirement Living schemes for older people of modest means. 
For more information about our Retirement Living schemes, visit our website:  www.housing21.org.uk