Summergate Lodge, a new Retirement Living development in Eastleigh, moved one step closer to completion as the build reached its highest point.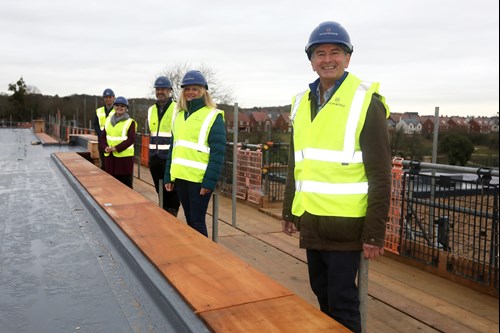 (Photography took place in December 2020, prior to the national lockdown)
Pictured left to right: Jon Woods – Highwood Homes, Susan Hanwell – Housing 21, Ashley Beckett – Highwood Homes, Councillor Tina Campbell – Eastleigh Borough Council, Paul Tewkesbury – Housing 21.
A topping out ceremony was held to mark the key milestone for Housing 21's latest Retirement Living scheme, which has been developed in partnership with Eastleigh Borough Council. The Housing 21 team were joined by representatives from Eastleigh Borough Council and Highwood Homes to celebrate the occasion.
Summergate Lodge is Housing 21's latest Retirement Housing scheme in Eastleigh and will provide much needed accommodation for local people over the age of 65. The development will offer 26 one and two bedroom apartments for rent and shared ownership. Summergate Lodge has been designed to promote independent living in a community setting, with a communal lounge and gardens and Court Manager on site during the week.
Residents will benefit from a range of on-site facilities, including communal lounge and gardens for residents and their guests to enjoy.
Paul Tewksbury, Head of Retirement Living (South region) at Housing 21 said: "We are delighted to reach this important milestone in the development of Summergate Lodge. The scheme will provide much needed homes for older people in the area."
Cllr Tina Campbell, Cabinet Lead for Social Policy said, "I am delighted to see this new retirement housing scheme which will provide independent living for our older residents and provides another important part of the evolving community at North Stoneham. The new flats will provide affordable homes for rent and shared ownership."
Ashley Beckett, Project Director for Highwood Homes said: "'It's been a pleasure working with Housing 21 on this project, which has remained on track despite these challenging times. It's the second project we've collaborated on and we're looking forward to another successful handover in early summer."
Summergate Lodge is set to open in Summer 2021 and the scheme's show home will be open from Spring 2021. Housing 21 is currently taking expressions of interest from those interested in buying or renting an apartment. Any enquiries should be directed to the New Home Team on newhome@housing21.org.uk or 0345 608 4021, Monday – Friday, 9am – 5pm.