Employees at Willow Gardens, a new Housing 21 Extra Care development on Russell Way, celebrated the official opening of its show home last week.
Willow Gardens is Housing 21's first Extra Care scheme in Chipping Norton and will provide much needed accommodation for local people over the age of 55. The development, under construction by Deeley Construction, will offer 80 one and two bedroom apartments for social rent and shared ownership.
Willow Gardens has been designed to promote independent living in a community setting, with a care team on-site 24/7 to deliver planned care packages if needed. It will offer people over the age of 55 a range of facilities including a communal lounge and gardens. An on-site hair salon and café/bistro for residents will also open to the public.
The scheme has been developed with funding support from the Future Oxfordshire Partnership; in in partnership with West Oxfordshire District Council and Oxfordshire County Council.
Susan Wells, New Homes Sales Manager and Emma Taylor, Housing Manager, both at Housing 21, were joined by Murry Barnett, Strategic Housing & Development Officer at West Oxfordshire District Council, and Cllr. Merilyn Davies, Cabinet Member for Housing and Communities in West Oxfordshire. Paul Marlow, Senior Site Manager at Deeley Construction and Eleanor Deeley, Deputy Managing Director, Deeley Group also attended to officially open the new show home.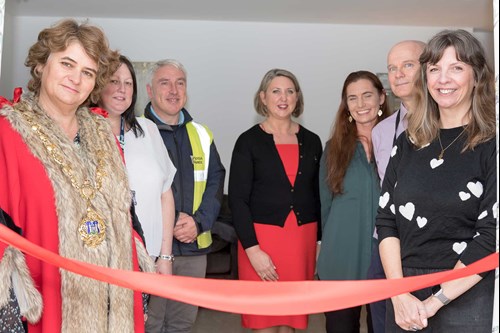 Lorraine Jenner, Regional Operations Manager at Housing 21 said: "We are delighted to open this fantastic new show home and can't wait to hear feedback from the local community.
"Willow Gardens has been built with our residents in mind. The apartments are all fitted out with high quality kitchens, easily accessible mid-height ovens, raised power points and level-access showers, but they are also really stylish and modern. We're can't wait to start welcoming people to come and take a look around!
Cllr Merilyn Davies, Cabinet Member for Housing and Communities in West Oxfordshire, said, "As part of our commitment to provide homes that people can afford in the district, this housing scheme is tailor-made for our older residents and to meet their needs. We are pleased that this development will soon be available for our residents."
Cllr Susan Brown, Chair of the Housing Advisory Group at Future Oxfordshire Partnership, said: "Oxfordshire is a very expensive place to live, so making sure that we are providing opportunities for people to find affordable options at all stages of their lives is vital. I welcome this development in Chipping Norton."
Eleanor Deeley, Deputy Managing Director at Deeley Group said: "This development is providing vital homes to address the needs of the community in Chipping Norton.
"This is the first Extra Care scheme we have worked on in partnership with Housing 21 and is a fantastic, state-of-the-art development completed to the highest standards. We are proud to use our expertise in delivering Extra care schemes to address the housing requirements of the population in Oxfordshire."
Construction at the development is expected to complete in Winter 2022.
Find out more about Willow Gardens