Staff at Summergate Lodge, a new Housing 21 Retirement Living development in North Stoneham, celebrated the official opening of its show home.
Summergate Lodge is Housing 21's latest Retirement Living scheme in Eastleigh and will provide much needed accommodation for local people over the age of 65. The development, under construction by Highwood Homes and supported by Homes England, will offer 26 one and two bedroom apartments for rent and shared ownership.
Summergate Lodge has been designed to promote independent living in a community setting, with a communal lounge and gardens and Court Manager on site during the week.
The scheme has been developed in partnership with Eastleigh Borough Council. Susan Hanwell, Retirement Housing Manager, and Millie Lewis, Court Manager at Summergate Lodge, were joined by The Mayor of Eastleigh, Councillor Darshan Mann, who officially opened the new show home.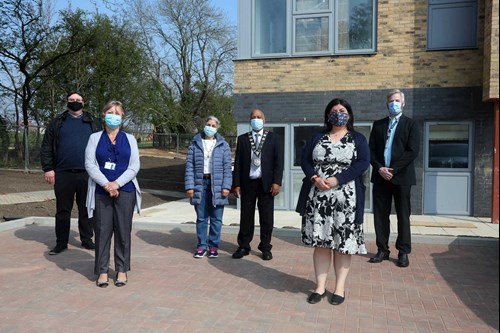 From left to right: Tony Henning, Court Manager at Housing 21; Susan Hanwell, Retirement Housing Manager at Housing 21; Mayoress of Eastleigh, Dalip Mann; The Mayor of Eastleigh, Councillor Darshan Mann; Millie Lewis, Court Manager at Summergate Lodge; Owen Cheshire, Construction Project Manager at Housing 21.
Mayor of Eastleigh Cllr Darshan Mann said: "I'm pleased to see the opening of the show homes for this excellent new Retirement Living housing scheme. The new homes will provide independent living for our older residents and be a key part of the evolving community at North Stoneham."
Millie Lewis, Court Manager said: "We are delighted to open this fantastic new show home and can't wait to hear feedback from the local community.
"Summergate Lodge has been built with our residents in mind. The apartments are all fitted out with high quality kitchens, easily accessible mid-height ovens, raised power points and level-access showers, but they are also really stylish and modern. We're really pleased to have guidelines in place which mean we can safely start welcoming people to come and take a look around.
"For those interested in renting or purchasing a shared ownership property at the scheme, we have also been fortunate enough to allow building work to continue safely in recent months, which means we are on track for new homes to be ready by late summer. We're hoping this is some positive news for the local community!"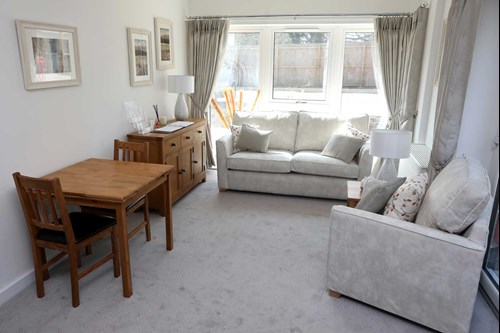 Ashley Beckett, Project Director at Highwood Homes for the North Stoneham Park development said: "We're delighted the new show home at Summergate Lodge has opened on schedule. We're firmly on course for a handover of another exemplary Retirement Living scheme to Housing 21 that reflects the superb working relationship we both enjoy."
Construction at the development is expected to complete by the summer.
To apply for a rented property, prospective residents will be required to register through Hampshire Home Choice.
Click here for more information: https://www.eastleigh.gov.uk/housing/housing-options/hampshire-home-choice
To keep staff and visitors safe, thorough cleaning will be carried out after each viewing. Social distancing will be observed, and protective gloves and face coverings will be available for visitors to use if they wish. Anybody experiencing symptoms of COVID-19 will be asked to rearrange their appointment.
For further information, visit the Summergate Lodge page.