A development of much-needed homes for older people in Skipton has opened its doors to prospective residents.
Eller Beck Court, in Raikes Road, is an Extra Care scheme providing independent living for people aged over 55 with optional on-site care.
A show home has recently opened for viewings at the scheme, which comprises 58 high quality one and two-bedroom flats for social rent and shared ownership.
The complex has been developed by Housing 21, a leading not-for-profit provider of Retirement Living and Extra Care for older people of modest means.
Supported by Homes England funding, Housing 21 has worked in partnership with North Yorkshire County Council, Craven District Council, construction company Casey Group and care provider Catholic Care.
Eller Beck Court has been built in the grounds of the former St Monica's Convent, behind St Stephen's Church.
The complex boasts a café/bistro and hair salon, which will also be open to the local community, along with a communal lounge, laundry room, activity room and landscaped gardens for residents and their guests to enjoy.
Its fully accessible facilities include a bathing suite for hire and design features to support residents living with dementia.
Catherine Hay, Extra Care Manager at Housing 21, said: "We are excited to welcome prospective new residents to Eller Beck Court, with the opening of our show home.
"This, the first Extra Care scheme we have developed in Skipton, will help meet the need for such housing in the town.
"Catering for people's individual changing needs, Eller Beck Court promotes independent living in a community setting. While still enjoying the privacy of their own home, residents have the peace of mind that there is a care team on site 24/7 to provide tailored support, if and when they need it."
Eller Beck Court comprises 22 one-bedroom and seven two-bedroom flats for social rent, along with four one-bedroom and 25 two-bedroom flats for shared ownership, all with either a patio or balcony.
To qualify for our shared ownership properties at Eller Beck Court, you must be over 65 and be approved by the Help to Buy Agent. You may qualify from the age of 55 to 64 if you have a care or support need of an hour minimum per week.
Housing 21 worked with its partners to keep building work on track over the last year, despite the coronavirus pandemic resulting in the site having to shut for 12 weeks.
For more information or to book an appointment to view the new homes at Eller Beck Court, call Housing 21's New Homes Team on 0345 608 4021 or email newhome@housing21.org.uk
To keep staff and visitors safe, thorough cleaning will be carried out after each viewing. Social distancing will be observed, and a temperature check system is in operation.
Find out more about Eller Beck Court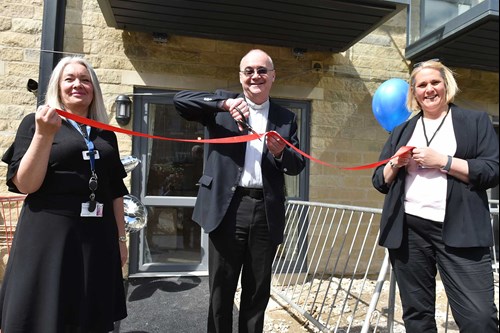 Beverley Sanderson, Housing Manager at Housing 21; Father Andrew Summersgill of St Stephen's Church; and Liz Young, Deputy Manager for Catholic Care.