Housing 21's new Extra Care Living scheme on Raikes Road in Skipton has recruited its Housing Manager ahead of opening in summer 2021.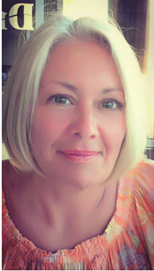 Experienced Housing Manager, Beverley Sanderson, who previously managed a portfolio of 20 housing schemes, has been appointed at Eller Beck Court - the new development currently under construction by The Casey Group.
The new Extra Care scheme, which is being developed by Housing 21 in partnership with North Yorkshire County Council, will provide 58 one and two bedroom apartments for affordable rent and shared ownership. The development will offer people over the age of 55 a range of services and facilities including a 24 hour on-site care team for those who need it, a café/bistro, hair salon and communal lounge which is also available to the local community - subject to social distancing rules at the time. Building work began for the new scheme in March 2019 and future residents are expected to move into their new homes in summer 2021.
Beverley, the new Housing Manager, has over eleven years' experience in housing and has covered everything from customer service to home ownership and portfolio management of multiple housing schemes, much like Eller Beck Court. Beverley's role at the scheme will see her become the first point of contact for expert assistance and support on housing and other matters, including entitlement to benefits. She will ensure the smooth running of the scheme and deal with any issues promptly and efficiently.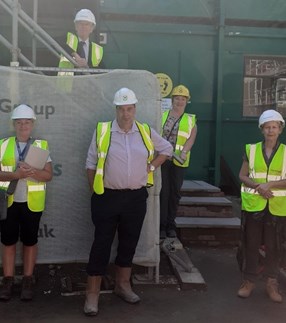 From left to right; Beverley Sanderson, Paul Crosland – Construction Project Manager, Bob Priestley - Contracts Manager for Casey, Catherine Hay - Extra Care Manager at Housing 21 and Claire Fuller - Property Sales Manager at Housing 21
Beverley said: "I am thoroughly enjoying getting settled into my new role at Eller Beck Court. I moved to Skipton earlier this year but I know the area quite well due to visiting regularly. I'm looking forward to learning more now that I both live and work here!
"As the scheme is currently under construction, my work mainly involves pulling together information packs for prospective residents at the moment. It has been great to meet so many local people and to see this development continue to progress into what I know will be a fantastic Extra Care scheme!
"I can't wait for the interior designers to start waving their magic wands to transform the interior into a modern, sleek building with specialist design features which also support people living with dementia.
"I will be encouraging local people to use the facilities such as the hair salon and café/bistro when the scheme opens - it's all about integrating Eller Beck Court with the community of Skipton."
The show home at Eller Beck Court is expected to open in early 2021. For more information about the scheme, please visit: https://www.housing21.org.uk/our-properties/search-our-properties/eller-beck-court/