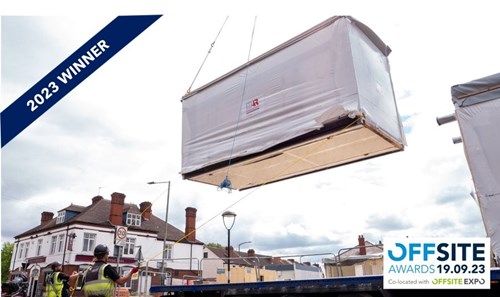 Our pioneering Retirement Living scheme has scooped a top award in recognition of our innovative and collaborative approach to its development.
Built offsite at M-AR's factory in Hull, the scheme adopts 'low carbon specification' to meet the Future Homes Standard and 2050 net zero targets
Our work on the project with offsite developer M-AR has led to Housing 21 being named Client of the Year in the Offsite Construction Awards.
The award seeks to showcase and celebrate inspiring leadership and strong partnership working to achieve excellence in offsite construction projects.
The scheme provides 20 affordable homes where people over the age of 55 can live independently within a community setting. It comprises eight two-bedroom bungalows and a three-storey block of six one-bedroom and six two-bedroom apartments, all for social rent.
All the homes benefit from energy-saving features to reduce residents' fuel bills and the properties' carbon footprint, including air-source heat pump water heating, high levels of insulation and airtightness, plus a highly efficient ventilation system.
To further maximise efficiency and reduce running costs, solar panels have been fitted at Patent Walk and our neighbouring Minden Court scheme to generate electricity for the wider scheme.
Tony Tench, Deputy Chief Executive at Housing 21, said: "Patent House and Patent Walk mark a significant milestone as we strive to provide affordable homes for older people that meet residents' needs now and in the future, while also considering our impact on the planet.
"We have worked closely with our partners over several years to successfully bring this ground breaking development to fruition, from design through to completion.
"So I am delighted that our vision, commitment and hard work have been recognised by the Offsite Construction Awards judges. Congratulations to all those involved in delivering this outstanding scheme."
Patent House and Patent Walk was supported by funding from City of Doncaster Council and Homes England, with Henry Riley acting as our Employer's Agent and Modular Consultant.