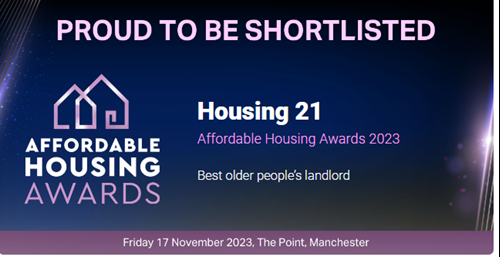 There is excitement across Housing 21 as the shortlist for the inaugural Affordable Housing Awards was announced.  
Housing 21 has been shortlisted for Best Older People's Landlord.  
Previously the UK Housing Awards, The Affordable Housing Awards are a platform to showcase and spread learning across the social housing sector in the UK. 
Housing 21 scooped the award in 2022 and 2020, and as the shortlist was announced for this year, the leading national provider of Extra Care and Retirement Living for older people of modest means, was named as a finalist once again.  
The awards identify the social landlords, charities and partners, who work with their communities to deliver great outcomes for tenants and residents. 
Bruce Moore, Chief Executive at Housing 21, said: "It is fantastic that Housing 21 has been selected as a finalist in the Best Older People's Landlord category of the Affordable Housing Awards.  
"This is a demonstration of the dedication and hard work of everyone across the organisation and our shared commitment to the principles of innovation (21), improvement (Better) and focus on the quality of service we provide to residents (Experience).   
"At Housing 21, our residents are at the heart of everything that we do as we strive to provide the best homes and the best experience.   
"I am very proud of the contribution everyone has made and continues to make to ensure residents in Retirement Living and Extra Care can live the life they choose with dignity and autonomy."   
The awards submission for Housing 21's entry focused on resident satisfaction and helping residents to maintain their independence whilst living happy and healthy lives.  
The submission included examples of financial wellbeing and inclusion for residents as part of the Tenancy Gurus who provide financial advice to residents, and financial support through the Helping Hands initiative which provides one-off grant payments for emergencies and unexpected payments. 
The entry criteria also addressed building homes for the future, which includes the recent announcement of Retirement Living scheme, Patent House and Patent Walk- England's largest net zero carbon neutral scheme. 
Judged by tenants and experts from individual fields, the awards are designed to not only celebrate success, but to help other landlords learn and replicate from each other.  
The ceremony will take place in Manchester on Friday 7 November. To view the full shortlist, visit the website: Affordable Housing Awards - Shortlist