The end of May marked 50 years since Retirement Living scheme, Grove Court opened in 1973, and the residents, family members and employees went all out to celebrate.
The sun was shining and the party was in full swing with entertainment, a finger buffet and of course a birthday cake with people from across the local community.
The scheme was visited by some special guests from the local primary school, who performed a musical number on the recorder to commemorate the occasion.
The Mayor of Sandwell, Councillor Richard Jones was also in attendance for the big day and cut the cake with Grove Court's longest standing resident. He spoke with some of the residents about the local area and the history of Grove Court, and also awarded Joan, Grove Court's Ancillary Worker, a bouquet of flowers for her 30 years of service with Housing 21.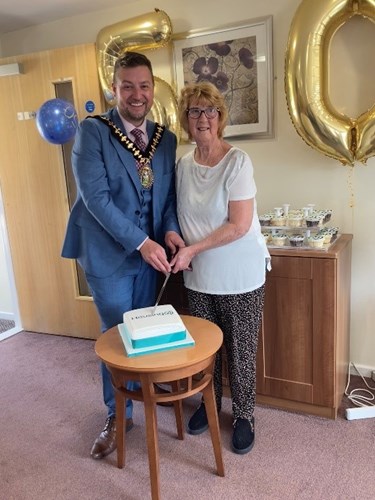 Pictured: Mayor of Sandwell, Cllr Richard Jones and a resident from Grove Court
Operations Manager, Kate Lester said: "It was a wonderful event for our residents to celebrate 50 years of Grove Court, with the local community joining us in marking the occasion too. A great day enjoyed by all."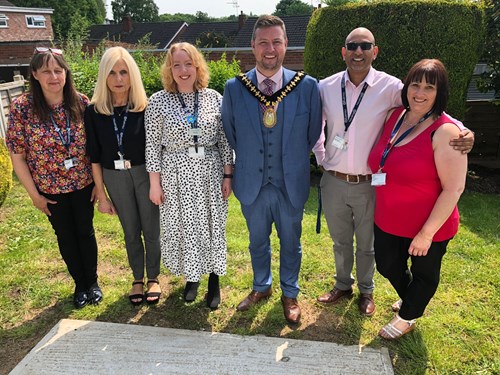 Pictured left to right: Marie Toorish, Local Housing Manager, Marilyn Evans, Local Housing Manager, Kate Lester, Operations Manager, Mayor of Sandwell, Cllr Richard Jones, Sajid Shaikh, Local Housing Manager at Grove Court, Louise Buckingham, Assistant Local Housing Manager
Grove Court is one of over 22,000 properties Housing 21 owns and operates as part of a portfolio of Retirement Living and Extra Care properties across England.