Antony Walker
Retirement Housing Manager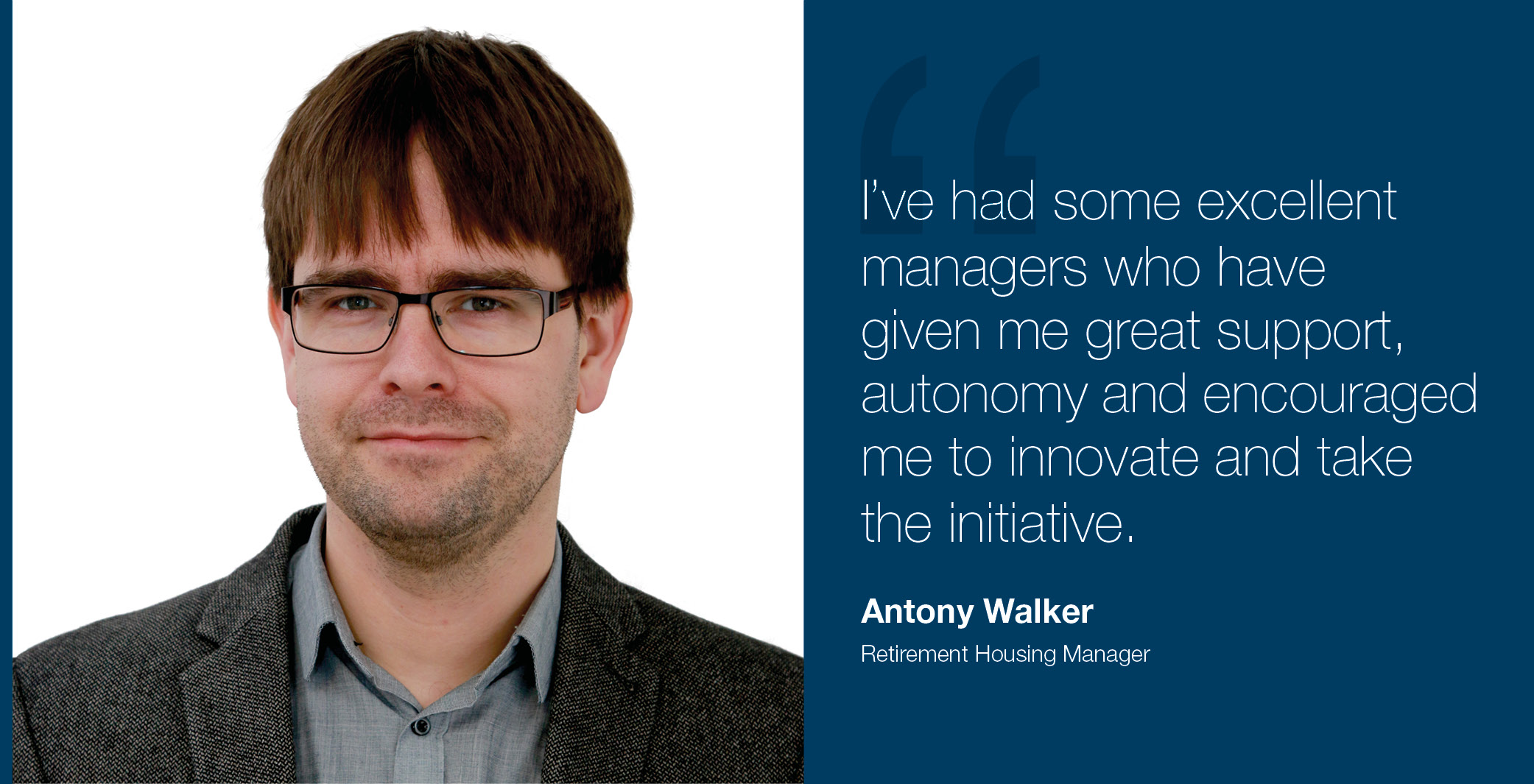 Can you tell us about your career journey at Housing 21?
I joined the organisation in 2010 on a fixed term contract as a Policy and Tenant Partnership Officer. I was looking for a role where I could made a difference to people and work for an organisation with a social purpose. My job involved updating the organisation's housing policies and running resident engagement activities. I loved meeting the residents and taking part in the area forums - it felt like I was directly making a difference.
When my contract came to an end I applied for the role of Research and Evaluation Officer and was successful. While in this role the organisation supported me to do a Market Research Society (MRS) qualification which taught me a lot and I went on to lead on various research projects including one which saw me presenting at a European Conference in Eindhoven! As part this role I interviewed one of the Retirement Housing Managers. They spoke passionately about the difference we can make to residents and inspired me to apply initially for an Assistant Retirement Housing Manager post, and then for the full Retirement Housing Manager role.
What is working in Retirement Housing like?
In the Retirement Housing Manager (RHM) role I have done various management training courses, but the key thing has been that they've let me get on with things while also being there when I need a bit of advice and encouragement. The RHM role is never dull! Tackling anti-social behaviour on courts has been the most difficult challenge. In many cases there is no malicious intent from the individuals involved, they can often be struggling in difficult personal circumstances. In other cases it's about methodically working through different solutions ranging from mediation to court action.
How would you describe the organisation's culture?
Housing 21 has a really positive, supportive culture that has developed a lot in recent years. I've been very fortunate to have come so far. I started as a temp, became a researcher doing a qualification, ended up leading a small research team and then hopped over to operations where I'm responsible for over 20 staff, 700 properties and a sizeable budget. I'm not sure I would have had the same level of support, encouragement and opportunities elsewhere. I've been fortunate to have had some excellent managers who have given me great support, autonomy and encouraged me to innovate and take the initiative. I couldn't have got to where I am without them.