Hayley Jones
Court Manager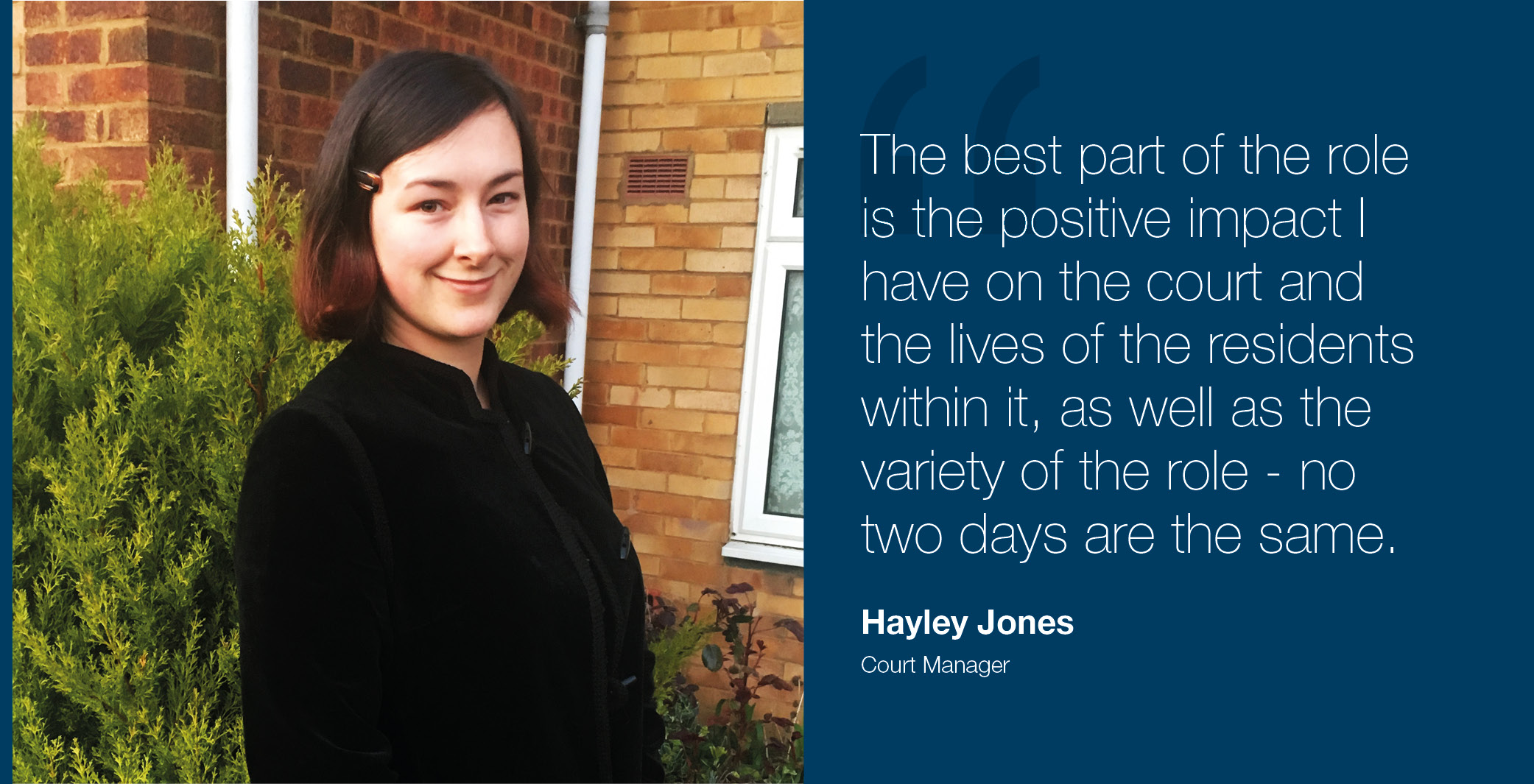 When did you join Housing 21?
I joined Housing 21 in 2019 as a Court Manager after working as a Portfolio Manager in leasehold block management. I was attracted by the prospect of being able to help older people and make a difference, whilst still working in a property setting. I also liked the flexibility of Housing 21 and its approach to constantly striving to improve as an organisation for the benefit of both its employees and its residents.
I was overwhelmed by the down to earth, friendly approach of the staff and was impressed by the training and investment in employees, the flexibility and autonomy in the role, and how long the majority of staff had been in their role – it was much longer than I had seen in previous organisations.
How have you found your first six months as a Court Manager?
At first I was apprehensive as there were new aspects to the role that I hadn't done before, including working on-site for the building I was managing, working with older people and working with people with a variety of different needs. I was, however reassured when I met people that had come to Housing 21 from a variety of different backgrounds, ranging from care, to property, to retail. The best part of the role is the positive impact I have on the court and the lives of the residents within it, as well as the variety of the role - no two days are the same.
What's the best thing about working for Housing 21?
Having understanding management and helpful co-workers. There are no 'stupid questions', no one is perfect, and all of us are learning together. People can work for the organisation for over ten years and still learn new things. This is especially reassuring when coming into the role without experience in a similar role previously. The culture of the organisation is supportive and empathetic. There is a good focus on work life balance and mental health.
What's next for you?
I'm hoping to undertake the Certificate in Housing Level 4 qualification and other training courses that will add to my continued personal development in the next 12 months.
What would you say to someone considering a role at Housing 21?
Organisations like Housing 21 are, in my experience, very rare to find. If you are given the chance to work for them, grab it with both hands, and you won't be disappointed - I certainly wasn't.