Housing 21 has added to its range of benefits provided to Care Workers.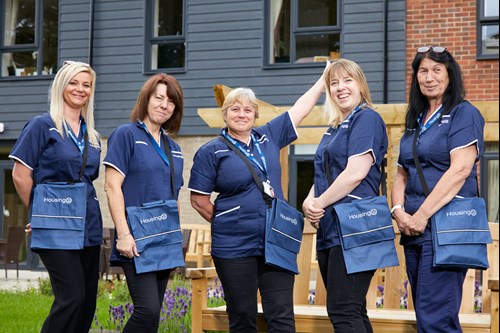 Pictured: Housing 21 Care Workers standing outside a scheme
Now counting Occupational Sick Pay and Occupational Maternity Pay as benefits alongside the commitment to pay at least 10 percent over the National Living Wage, the organisation is at the forefront of a drive to improve standards and make care a positive career choice.  
Occupational Sick Pay, which was introduced for Care Workers and other hourly paid roles during the Covid pandemic, will be maintained as an ongoing entitlement to recognise the commitment Care Workers have shown towards residents and the organisation during the Covid-19 pandemic. 
Care Workers also receive the same ongoing benefits as corporate colleagues – from access to the Employee Assistance Programme and eye care vouchers, to car leasing and cycle to work schemes. 
The benefits provided are also intended to demonstrate that the role of a Care Worker at Housing 21 is a real option for people who want a clear career path alongside job satisfaction and a good salary. All full time Care Worker roles now start from at least £19,000 a year with opportunities to develop.  
Kris Peach, Executive Director Extra Care at Housing 21 said: "We are living in pretty exceptional times. 
"Across the country there is a national shortage of Care Workers and Carers and this will only be resolved by making the industry an attractive place to work. At Housing 21 we truly value our Care Workers and are committed to demonstrating that it is not only a rewarding job in terms of vocation, but also financially through better rates of pay, benefits and the opportunity to develop a career."