Residents at a local Thatcham Extra Care scheme have been celebrating the launch of their new on-site restaurant.
Katie Joyce, Housing and Care Manager at Alice Bye Court; Zoe, waitress at Petals at Alice Bye Court; Nicola Cresswell, Restaurant Manager at Petals at Alice Bye Court; Phillipa Horton, Housing Manager at Alice Bye Court in Petals restaurant.
Housing 21's Alice Bye Court in Thatcham held a hula party to celebrate the opening of Petals on-site restaurant, which is also open to people in the local area.
Petals catered for the residents' party which was held in the communal lounge at the scheme, and there was no shortage of attention to detail, with Restaurant Manager Nicola also creating a Tiki bar alongside the buffet.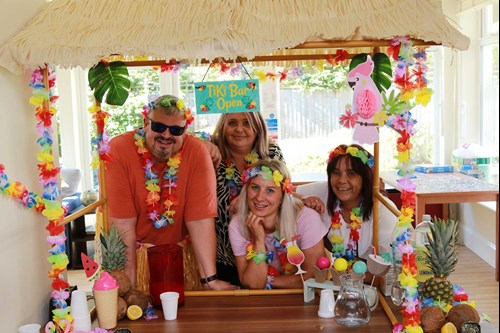 Nicola, Restaurant Manager for Petals at Alice Bye Court, said: "When we came in, the restaurant was a blank canvas really. We've turned this into a relaxed environment where residents and people from the local area can come to for home comforts cooking."
Providing quality hot and cold food to residents, including winter warmers like a Sunday roast and apple strudel, Petals initially opened during lockdown and offered a delivery service to residents who were shielding.
Nicola commented, "We've found it's the small touches that make people feel valued – like some chocs after a Sunday roast. I've really enjoyed creating a new menu here and getting to know the residents and building a rapport with them. As far as job satisfaction goes, opening here is so rewarding!"
Thatcham locals, Beryl and Eric have lived together at Alice Bye Court for nine years and commented: "The best changes here recently have been getting the new restaurant and the events that the management organises. If we have any problems they're soon sorted. I won't say it's a fault of living here, but we don't need to go out much! We have everything here and are thankful we were able to shield in our apartment during the pandemic.
"There's always something to look forward to here; there's new management and a new restaurant, things are shaping up nicely!"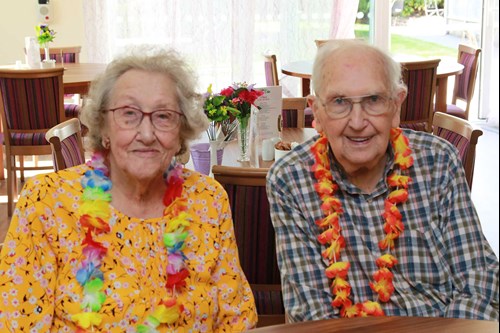 Alice Bye Court residents Beryl and Eric in Petals restaurant
There are cause for double celebrations at Alice Bye Court, as they have recently welcomed a new Housing and Care Manager to the scheme.
Katie Joyce started her new role as Housing and Care Manager at Alice Bye Court in June 2021, however, has worked within Housing 21 for six years, beginning her career as a Care Worker.
When talking about her aspirations for Alice Bye Court, Katie said: "Lots of residents have been isolated over the past 18 months. I want to bring everyone together and have lots of social engagement at Alice Bye – it has to be a fun place for both residents and colleagues to work!
"I'm really excited about the new restaurant here, there are so many ideas and the new provider is really committed to making it work. We're running lots of new activities alongside building a strong team.
"It's important to listen to residents; it's our workplace here but it's their home. I want a really good team here who are knowledgeable and confident in their roles; I want my team to feel happy when they come to work.
"We're recruiting for Care Workers at the moment, and I'll always look at someone's application if they didn't have experience, so long as they have the right attitude! I'm a firm believer in shadowing and giving on-going support."
Alice Bye Court is currently recruiting for Care Workers and offers guaranteed hours' contracts alongside a rate of pay 10% above the National Living Wage.