Housing 21 has opened the doors of Newton House, off Newton Road, on the site of the town's former maternity hospital.
Built on the site of Penrith's former maternity hospital on Newton Road, Newton House is an Extra Care scheme offering 54 one and two-bedroom affordable homes for the Cumbria town's older people.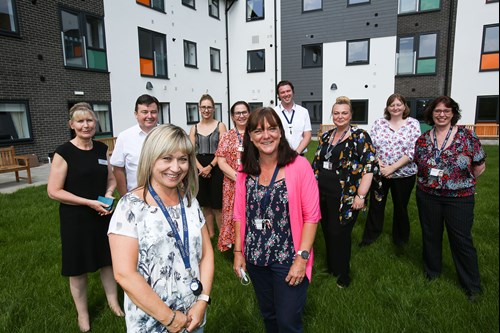 Housing 21 staff outside the new Penrith development
Designed to promote independent living for people over the age of 55, the Extra Care scheme offers 26 one and two bedroom apartments for social rent and 28 two bedroom apartments for shared ownership, with on-site care available if and when residents need it.

Residents will be able to enjoy an impressive range of on-site communal facilities, including residents' lounge, activity room and communal gardens. An on-site restaurant and hair salon will also be open to residents, visitors and members of the local community.
Newton House is being delivered by Housing 21, a leading not for profit provider of Retirement Living and Extra Care for people of modest means, in partnership with Cumbria County Council and Eden District Council.
Lyndsay Cutmore, Extra Care Manager at Housing 21 said: "We are thrilled to be officially opening Newton House, so we can meet potential future residents and their families.
"The scheme will provide much needed affordable homes for older people in the area, our stylish, high-quality apartments offer the privacy and security of your own home, along with the peace of mind of having the support of an on-site care team 24/7."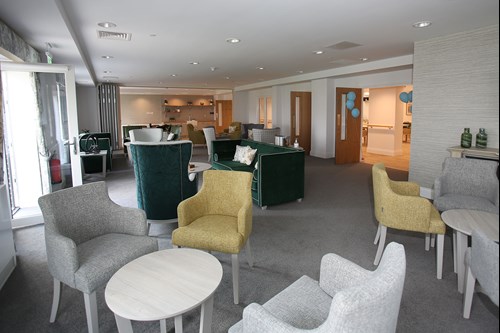 The communal lounge at Newton House
Councillor Judith Derbyshire, Eden Council Housing and Health portfolio holder at Eden District Council, said: "This is a fantastic and much needed addition to housing provision within Eden. It is a wonderful state of the art facility developed with our partners to provide high quality independent living for older people in Eden with extra care needs."
Councillor Patricia Bell, Cabinet Member for Adult Social Care at Cumbria County Council, said: "I'm delighted to see this fabulous new development completed and the thought and care that has been put into its design. I sure that people will enjoy living here.
"We know that older people want to live independently in their own homes for as long as possible and Extra Care Housing provides homes to make this possible. We are working with housing associations, like Housing 21, to build new schemes by providing an element of grant funding, over £700,000 in this case, or contributing land for building sites. Newton House is one of the first to be developed under this approach and I look forward to seeing more come to fruition."
Neil Mckaskie, Operations Director of Atkinson Building Contractors said: "Our company bought this development site with the sole intention of delivering an Extra Care scheme for our district, a headline priority for our council at the time. This has been a real partnership with housing 21 from day one and we couldn't speak more highly of our working relationship with them throughout."
Find out more about Newton House
To keep staff and visitors safe, thorough cleaning will be carried out after each viewing. Social distancing will be observed, and protective gloves and face coverings will be available for visitors to use if they wish.