Patent House and Patent Walk
Patent House, Truman Street, Bentley, DONCASTER , DN5 0FA
Retirement Living
Our first net zero carbon scheme
Call 0345 608 4021 to register your interest
Our apartments in Patent House and the bungalows of Patent Walk offer residents independent living, combined with spacious communal facilities. The 12 one- and two-bedroom apartments and eight two-bedroom bungalows are available for rent to residents over the age of 55.
The scheme is England's largest net zero volumetric modular Retirement Living scheme; adopting 'low carbon specification' to meet the Future Homes Standard and 2050 net zero targets. Residents will have reduced energy costs and will benefit from high insulation, water heaters with integrated air source heat pumps and mechanical ventilation with a heat recovery system. You can read more about this here.
Residents will enjoy access to a spacious residents' lounge – perfect for meeting up for a chat and coffee. There is also a guest room for visiting friends and family and our on-site Manager will be on hand to help with any queries. And your pets are very welcome to move in with you too!

Situated in Bentley near the thriving, historic market town of Doncaster, the scheme is close to a variety of local shops and an attractive park, where residents can enjoy pleasant walks.

Bentley is a friendly place with a strong community spirit. Within easy reach of the scheme are several pubs, cafés, doctors' surgeries, dentists, opticians, takeaways, post offices, chemists, churches, a bank, and a library. Several larger supermarkets are a short drive or bus ride from Patent House and Patent Walk.

Buses run every 10 minutes into Doncaster from a stop close to the scheme, or residents can choose to use the Ledger bus or local taxis to get around. The train station is a short walk away and provides connections to the entire mainline rail network via Doncaster, Sheffield and Leeds.

Patent House and Patent Walk is a great option for people looking to downsize and enjoy living in a beautiful new apartment or bungalow set within a friendly, sociable setting.
Rental
There are 12 one- and two-bedroom apartments and eight two-bedroom bungalows available to rent. 
To find out more and to register your interest, simply enter your details in the form below. Alternatively, please give us a call on 0345 608 4021 or email info.patentwalk@housing21.org.uk.
*The price advertised is a guide only and is subject to change, please confirm the cost of the home you are interested in during your enquiry.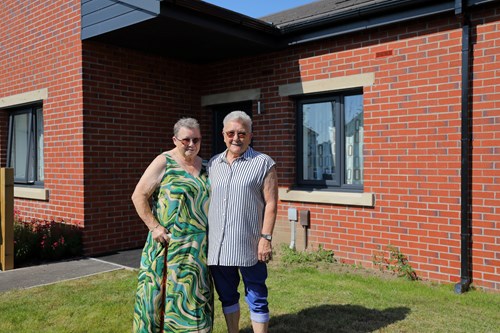 Ethel and Margaret, residents at Patent House and Walk.

"These bungalows have provided us with everything we need to live a comfortable life, they are close to family and have all the "mod cons" to lead an affordable lifestyle. It's great that we can easily contact members of the Housing 21 team for any extra support we might need going forward. We love that they feel warm and that everything has been thought of to make life easier from the pull-down cupboards to level access shower for those of us with limited mobility"

Services and facilities
Lounge
Guest room
Car park
Garden
0
Properties available for
Rent
Interested in this development?
Patent House & Patent Walk
Patent House, Truman Street, Bentley, DONCASTER , DN5 0FA
Our first net zero carbon scheme, coming soon to Doncaster.
From
To
Service Charge*
£40.91
£40.91
(weekly)
Support Charge*
£4.18
£4.18
(weekly)
*Costs are indicative for a range of properties. For detailed costs on each property please contact the Court Manager.
Would you like to know more?
Register your interest
Interested in living at Patent House and Patent Walk? Fill in your details and submit below.
To talk to our team, please don't hesitate to get in touch
You may also be interested in