A £9.3 million scheme which allows residents to live independently with the reassurance of an on-site care team is preparing to welcome its first residents following project completion.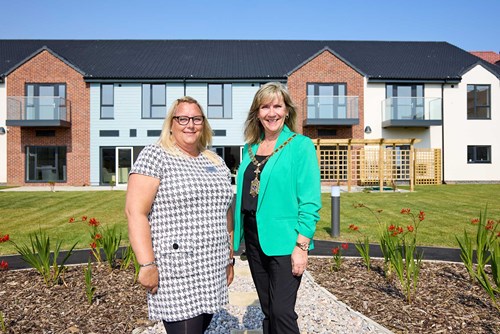 Filey Fields Court in North Cliff Drive is a purpose-built development offering 70 one- and two-bedroom apartments, to people over the age of 55.
The scheme has been delivered by Housing 21, a national leading provider of Retirement Living and Extra Care, in partnership with Scarborough Borough Council and North Yorkshire County Council.
Housing 21 is the country's leading not-for-profit provider of Extra Care and Retirement Living for older people of modest means.
Claire Charlton, Head of Extra Care at Housing 21, said: "We are delighted to have completed work on Filey Fields Court and are welcoming our first residents as we build a community of like-minded individuals. Our Extra Care properties strike a unique balance as they allow residents the freedom to live independently in their own home, with the option to access on-site communal facilities and care support if and when required.
"The apartments are designed to a high-quality standard with all of the modern touches that allow residents to live comfortably in their own home, while the scheme itself has facilities including a communal lounge, hair salon and restaurant, as well as a guest apartment for visiting family and friends."
The apartments are available for rent or shared ownership to people over the age of 55 with a connection to the local area. The scheme has been built, developed and will be managed by Housing 21, which achieved 90% resident satisfaction from those living in its Extra Care schemes in its 2021 annual resident survey.
An on-site Housing and Care Manager is available to assist residents with any concerns or queries, including repairs, benefit claims or suggestions for events. The manager is supported by a care team which is based on site 24 hours a day, seven days a week, to assist with any planned or emergency care needs.
Cllr Carl Maw, Portfolio holder for Stronger Communities and Housing at Scarborough Borough Council, said: "Independence is such a vital part of maintaining physical and mental health. Independence boosts confidence, self-esteem and a sense of purpose so therefore improves quality of life, the building of communities such as Filey Fields is also central to combating isolation and exclusion. Which is why facilities such as Filey Fields are so important as they offer that independence but with the added bonus of accessibility and assistance if they're needed."
The scheme's on-site facilities, including the hair salon, communal lounge and restaurant, will be available for use by the local community as well as residents as part of Housing 21's commitment to strengthen links with the local community. Couples and individuals who meet the eligibility criteria can apply, as can those with pets who are welcome at the scheme.
County Councillor Michael Harrison, Executive Member for Adult Services and Health Integration at North Yorkshire County Council said: "The development of extra care in the county is a strategic priority for the council, and I am delighted to see another scheme opening.  With extra care, you stay in control of your own future, retaining dignity, security and choice – and this scheme is a real asset for Filey and the surrounding area."
Construction on the site was led by North East Construction company, Tolent, who were appointed to build the project at the end of 2019.
Paul Walker, Regional Commercial Director for Tolent, said: "We're delighted to be handing over our fourth extra care project to Housing 21. The team on site has delivered an exceptional build, and we're sure those residents moving in over the coming weeks will be very happy here.
"From retirement villages, dementia specific care homes to supported living bungalows, we've delivered over £100m of work in this sector in the past few years alone and it's an area of our business that continues to grow. We look forward to working with the team at Housing 21 again in the future."