A £12.5 million scheme in Stratford-upon-Avon celebrated its first few months of operating in the community with a grand opening event.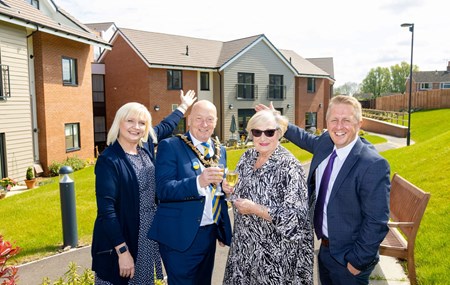 Pictured left to right: Zoe Hopkins (Housing & Care Manager at Lavender Meadows); Cllr Kevin Taylor, Mayor of Stratford-upon-Avon; Carol, a resident at Lavender Meadows; Kris Peach (Executive Director of Extra Care at Housing 21) 
Lavender Meadows is a purpose-built Extra Care development allowing residents over the age of 55 to live independently with the reassurance of an on-site Care Team. 
The scheme has been delivered by Housing 21, a national leading provider of Retirement Living and Extra Care, in partnership with Warwickshire County Council and construction specialists, Vistry Partnerships.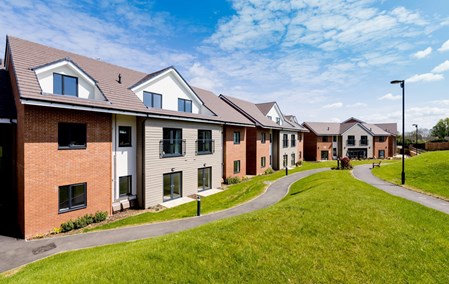 Pictured: Lavender Meadows in Stratford-upon-Avon 
Julie Levesley, Extra Care Manager at Housing 21, said: "It has been extremely challenging developing Lavender Meadows in the middle of a pandemic. However, it makes the scheme even more special and to get everyone together for the official opening has been fantastic. 
"We have some wonderful residents living here already and a marvellous team. We look forward to working with the wider community to make a difference to the lives of the people that live here, and we hope to have a positive impact in the local area." 
Lavender Meadows offers 75 two-bedroom apartments which are available for rent and shared ownership. The modern apartments are designed to a high standard that allow residents to live comfortably in their own home, with the chance to socialise with neighbours in the communal lounge and gardens. 
Darren Beale, Managing Director at Vistry Partnerships, said: "We have extensive experience designing and constructing Extra Care schemes and we're very pleased to have worked successfully in partnership again with Housing 21.  
"As one of the country's leading regeneration specialists we recognise the need to support our partners to build homes across all tenures, particularly homes and care services for older people. I wish all the residents a happy and joyful time in their new homes."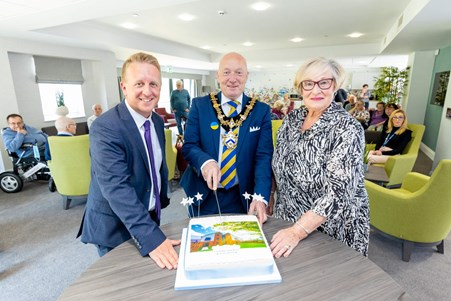 Pictured left to right: Kris Peach, Housing 21's Executive Director Extra Care, Cllr Kevin Taylor, Mayor of Stratford-upon-Avon and a Lavender Meadows resident celebrating the grand opening event
David Sherwood, Commissioner at Warwickshire County Council, said: "Lavender Meadows, an Extra Care development commissioned by Warwickshire County Council, is providing high quality housing matched by the excellent Housing and Care Team at the service which has already led to transformational benefits to residents lived experiences." 
An on-site Housing and Care Manager is available to assist residents with any concerns or queries, including repairs, benefit claims or suggestions for events. The manager is supported by a Care Team which is based on site 24 hours a day, seven days a week, to assist with any planned or emergency care needs. 
As well as boasting a communal lounge and landscaped gardens, the Extra Care scheme also has an on-site café/bistro and hair salon which are available for use by the local community. 
Kathy, a resident at Lavender Meadows, said: "I'm very happy here at Lavender Meadows; moving here was the best decision I have made. All the employees know your name and it really makes you feel safe and welcome."