World Alzheimer's Day
World Alzheimer's Day is an annual international awareness day, held on 21 September, to highlight issues faced by people living with or affected by dementia. Here we talk about why our work with dementia is so important to us, and hear from one of our residents who was diagnosed with early onset Alzheimer's disease.
As chair of the national Housing and Dementia Working Group, and core members of the Housing and Dementia Research Consortium, Housing 21 aims to influence the wider housing sector to consider dementia in their services.
Ahead of launching ourselves as a dementia–friendly organisation in November 2017, we surveyed our scheme managers across the organisation to establish the incidence of dementia in our schemes, the extent to which the physical design of our properties support people living with dementia and their ability to signpost residents to appropriate services. The results showed that around 11% of residents in our Retirement Housing properties and 24% in Extra Care have either a diagnosis of dementia or a suspected cognitive impairment.
This is why we are committed to doing all we can to support residents who are living with or affected by dementia to live well. As part of this commitment, the Alzheimer's Society's Dementia Friends initiative is strongly promoted within the organisation, with all staff becoming Dementia Friends at their induction. We also ask contractors to undertake a Dementia Friends session before they do any work on schemes as part of the contractors' code of compliance, and encourage our main suppliers to have a Dementia Friends session. We have also written into the procurement process that potential suppliers and contractors commit to the initiative.
This year we launched the updated dementia-friendly housing guide, which we co-authored with Alzheimer's Society. The aim of the charter is to highlight the positive role which housing can play in helping people with dementia live well. You can read more on our work with dementia including the groups we work with, and download the housing guide here.
This World Alzheimer's Day, Housing 21's Equality, Diversity and Inclusion (EDI) group for Age want to shine a light on early-onset (or young-onset) Alzheimer's and dementia. Although Alzheimer's is often thought of a disease which affects older people, approximately 5% of those diagnosed are under 65  - this is called early onset or young onset Alzheimer's and usually affects people in their 40s, 50s and early 60s.
Resident story
Gabrielle is a resident at our Extra Care scheme, Summer Court, in Kent, and kindly shares her experience of living with early onset Alzheimer's with us:
"A diagnosis of young-onset Alzheimer's disease and posterior cortical atrophy at the age of 57 forced significant changes to my way of life. Faced with the fact of being on my own with serious deteriorating health issues, I chose to move into Extra Care Housing as soon as possible. It was important to me to be able to settle down in a long term, safe new home, before my dementia deteriorated to a point where I would find any type of relocation a real struggle.
"Although all of my five adult children and their partners are supportive of me, I prefer to remain independent as much as possible, keeping family interaction normal and positive. I have regular contact and visits, and I love seeing my grandchildren. Even though I thankfully do not yet require regular support from carers, it is good to know that care and support is available in an emergency at any time, and it makes me feel relaxed knowing that I only need to press a button, should I suddenly become very unwell – it is also peace of mind for my daughters.
"I am a member of two groups for younger people with dementia. One is called the Young Unforgettables, facilitated by an occupational therapist from the memory clinic, but we call ourselves the 'Wonkies'. It is more of a social group – we go for walks, play quizzes (I often repeat the quiz with my neighbours here at Summer Court and everyone enjoys it), have music days and sports days and generally chat and laugh. The other group is called 'Sunshiners', led by psychologists from the memory clinic. This is more of a focus group where we tackle issues and problems commonly faced by people living with dementia.
"The thing I miss the most about my former home is my garden – I always found it relaxing to plant and sow, and rewarding to watch my flowers grow. I was so relieved and happy when Alison, the Housing Manager, showed me the gardens and patio areas saying residents are welcome to participate in gardening. I have since spent many content hours pottering, digging and planting. I was permitted to bring a few of my pots from my own garden to go on the large patio which means a lot to me - it made me feel more at home instantly and my neighbours like them too.
"Summer Court has a beautiful garden area with lawns, some big trees and raised flowerbeds, and wildlife such as squirrels, various birds and foxes like it here too – we even have badgers roaming through at night. Last autumn I built a bug hotel in a more sheltered area along a wall under the big trees, where a pathway runs along so everyone can access it and see it, and it's quite a popular feature. This year I am creating a mini pond area in one of the big raised flower beds, where everyone can get close to it safely, even in a wheelchair. The handyman kindly donated some tadpoles from his own pond, and we are now eagerly awaiting a frog invasion. More residents are now accessing the patio area, and enjoy sitting where the flowerpots are. The bingo group has bought new patio furniture and some of the bingo proceeds go towards new plants too. I am glad to have the opportunity to be active in the garden, pottering - I find it very therapeutic and I even enjoy the chore of watering the many pots and the big flowerbeds."
Gabrielle, Resident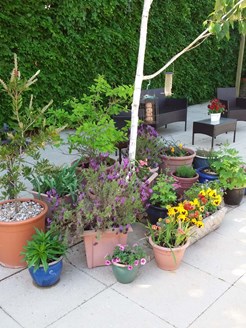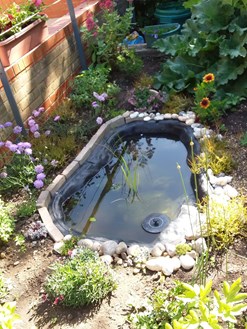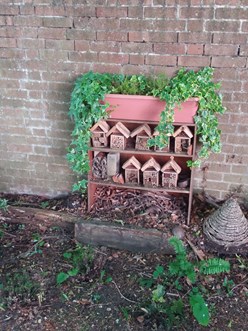 Further information:
Alzheimer's society leaflet: Early onset dementia
Housing and Dementia Working Group